Books/Книги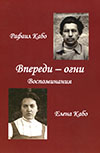 [Lights ahead: Memoirs, Letters and Essays. Compiled and edited by Vladimir Kabo and Elena Govor]
Канберра: Алчеринга, 2006, 262 с., илл.
Media/Интервью
Articles/Статьи
Introduction // Artyom Vesyoly, Russia Washed in Blood : a novel in fragments. – London, New York: Anthem Press, 2020. – pp. xi-xvi (with K. Windle).
Introduction to Artyom Vesyoly, Bitter Hangover: Excerpts from Russia Bathed in Blood // Cardinal Points, 2019, Vol. 9, pp. 157-158 (with K. Windle).
Кому в стране Дельфинии жить хорошо [Who lives well in Delfinia]. - Австралийская мозаика, 2017, № 40, с. 62-69, ил.
Кому в стране Дельфинии жить хорошо [Who lives well in Delfinia], В новом свете [In the New World], 30 июля 2014, с. 29. Ibid. - In: В. Сандлер. Язык родной, страна чужая: Русское зарубежье в портретах и диалогах. Papyrus Opus, c.87-94.
Юлий - Дмитрий - Йоэль: В поисках предков бердянских Энгелей [Yuly - Dmitry - Joel: searching for ancestors of the Berdiansk Engel family]. - Мелитопольский краеведческий журнал [Melitopol Journal of Regional Studies], 2013, № 1, с. 54-60.
От Бердянска до Канберры: исторические связи и связи историков [From Canberra to Berdiansk: Historical connections and connections of historians]. – в кн.: Історична освіта в Бердянську: від чоловічої гімназії до соціально-гуманітарного факультету БДПУ / Упорядники: І.І. Лиман, В.М. Константінова, Бердянськ: БДПУ, 2012, с. 3-4.
Памяти славного австралийца [In memoriam of prominent Australian]. - Предтеченский листок, 2011, № 134, с. 28-30.
Перед ветрами времени [Under the winds of time] / Беседовал Кирилл Ладутько. – Неман [Neman], Минск, 2010, № 2, с. 198-206.
У лампы под золотистым абажуром [Under a golden-shaded lamp]. – Австралийская мозаика, Sydney, 2010, № 19, с. 74-76.
Дорога в Австралию. Владимир Рафаилович Кабо (7.02.1925 – 4.06.2009). [The road to Australia. Vladimir Rafailivich Kabo] - Единение, 2009, 6 июля.
Ethnographer likened the Gulag to Athens in the time of Pericles. Vladimir Kabo, 1925-2009 [Этнограф, связавший ГУЛАГ с Афинами времен Перикла. Владимир Кабо, 1925-2009], Sydney Morning Herald, 17 June 2009, (with Anne Summers).
Survived Stalin's Gulag to shed more light on Australia's indigenous people. Vladimir Rafailovich Kabo, ethnographer 7-2-1925 — 4-6-2009 [Человек, выживший в ГУЛАГе, чтобы пролить свет на коренных жителей Австралии. Владимир Рафаилович Кабо, этнограф], The Age, 26 June, 2009 (with Anne Summers).
Борисевич Л.И. Воспоминания об Артеме Веселом (Из семейного архива) [Memoirs about Artem Veselyi (From family archives)]. – Волга, 1990, № 3, с. 135-154. (Публикация, вступление и комментарии к воспоминаниям о моем деде Артеме Веселом).
"Живу будущим…" ['I live for the future…']. – Семья и школа, 1988, № 4, с. 18-21. (Публикация писем моей мамы Волги Веселой).